La Luz de Taos - Gala 2022
La Luz de Taos Gala Weekend tickets are SOLD OUT!
Absentee ballot sales ended at noon USA Mountain Time on May 19, 2022.
May 20-22, 2022
The biennial Couse Foundation Gala and Art Auction, postponed due to the pandemic, returns in a big way on the weekend of May 20 with a new name: La Luz de Taos!
Visit the exhibition website at LaLuzdeTaos.org to see the 39 pieces of exciting contemporary art online, to be sold by draw on May 21. You can see our fabulous silent auction art here.
For general information, contact admin@couse-sharp.org or call 575-751-0369
La Luz de Taos lecture issues and streaming option

Due to the necessity of having to vacate our original lecture venue so it can be used as a wildfire command post, we have moved the La Luz de Taos Gala lecture to the auditorium at the Harwood Museum of Art. Because the auditorium is smaller than the other venue and cannot accommodate all who would like to attend, our colleagues at the Harwood have offered to stream the lecture via Zoom for those who can't get a seat.
We are also opening the online version to others as an educational endeavor. Register by clicking here.
La Luz de Taos Lecture - PARDS: The Taos Society of Artists
The Taos Society of Artists was a series of partnerships that affected not only the artists personally and professionally, but also the reach of the TSA beyond Taos. Despite their conflicts and collisions, they remained fiercely loyal to the aims of the TSA even after it dissolved in 1927. Historians partnered with the TSA artists to ensure their works was not forgotten. The Couse-Sharp Historic Site continues that commitment, particularly in its newest partnership: The Lunder Research Center. This lecture will discuss those evolving and fluid partnerships in the context of American art, including art of the American West.
Our speaker is Michael R. Grauer, McCasland Chair of Cowboy Culture/Curator of Cowboy Collections and Western Art at National Cowboy & Western Heritage Museum. Mr. Grauer holds a Bachelor of Fine Arts in painting and a Bachelor of Fine Arts in art history from the University of Kansas; the Master of Arts in art history from Southern Methodist University; and the Master of Arts in history from West Texas A&M University. He has began his career at the Smithsonian American Art Museum and has been a curator of art for 35 years. He has curated over 150 exhibitions on Western art, culture, and history and authored 70 publications. He was the University of Kansas Kress Foundation Department of Art History's distinguished alumnus for 2012. In September 2021, his recent book, Making a Hand: The Art of H. D. Bugbee, received the Western History Association Wrangler Award for Best Western Art Book for 2020. He was inducted into the Kansas Cowboy Hall of Fame at Dodge City, Kansas, as Cowboy Historian for 2021 in October.
The events:
Saturday, March 5 | La Luz de Taos exhibition opens in Taos
Friday, May 20 | Lunder Research Center VIP Opening
Saturday, May 21 morning | Lecture on Taos Society of Artists topic [LECTURE CAPACITY REACHED; see above for more information]
Saturday, May 21 afternoon | Gala & Art Sale, El Monte Sagrado Resort
Sunday, May 22 | VIP open house and artist demonstration, Couse-Sharp Historic Site
LODGING OPTIONS
Several local properties have blocked rooms for our guests, and some are offering discounts. To take advantage of these, please use the phone numbers and promotional keys supplied. Promotional rates shown below do not include taxes or any resort fees.
CASA BENAVIDES casabenavides.com
Tessy, Front Desk Manager, 575-758-1772
Mention "Couse Foundation" block
10% discount
Regularly $130 - $199
Blocked rooms will be released April 8
EL MONTE SAGRADO elmontesagrado.com
Saturday Gala venue
877-901-7666
Room block name is 2205COUSE
$309 Kings/Doubles, $349 Native American Suites
Blocked rooms will be released April 27 (extended)
HOTEL DON FERNANDO hoteldonfernando.com
575-751-4444
Mention Taos Gala Event, promotion code TCS
20% discount honored May 18-24
Regularly $160-170 (breakfast not included
Blocked rooms will be released April 20
OLD TAOS GUESTHOUSE oldtaos.com
Cady and Bob Aspinwall, 575-758-5448
Mention "Couse Foundation Gala Event" block
10% discount
Regularly $149 - $229
Blocked rooms will be released April 8
SAGEBRUSH INN sagebrushinn.com
Book at 575-758-2254
Mention "Couse Foundation"
$109
Blocked rooms will be released April 19
TAOS INN taosinn.com
Book through website with promo code COUSE/SHARP in dropdown box
Or call 855-963-2180 and mention code "Couse/Sharp"
15% discount for bookings May 16-26
Regularly $170 - $260
No rooms blocked, discount only
TAOS VALLEY LODGE taosvalleylodge.com
Book at 575-737-0447
Promotion code "Couse Foundation"
$109
Blocked rooms will be released April 8
LA FONDA TAOS lafondataos.com
575-758-2211
$209 - $599
No block or discount
PALACIO de MARQUESA marquesataos.com
855-997-8230
$500 - $516
No block or discount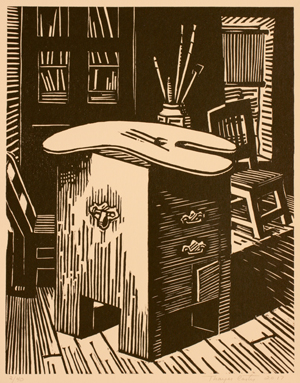 Thayer Carter, Artist Palette, Limited Edition Woodcut