See where the Taos Society of Artists began: Couse-Sharp Historic Site
Our 2+ acre campus in the heart of Taos' central historic district features the former homes and studios of E. I. Couse and J. H. Sharp, two of the American-born, European-trained artists who formed the TSA in 1915.
Visitors are astonished that such a well-preserved—and charming—complex of period buildings, gardens, furnishings, and associated art collections still exists. Engineering enthusiasts can see a 1936 laboratory and machine shop plus a Kibbey Couse-invented mobile machine shop used in World War II. Our latest addition is The Lunder Research Center, a beautiful state-of-the-art research and museum facility dedicated to the early Taos art colony and the TSA.
We invite you to peruse our website to get a feel for the amazing range of history, culture, architecture, science, and art at the Couse-Sharp Historic Site.
News and Information
Upcoming Events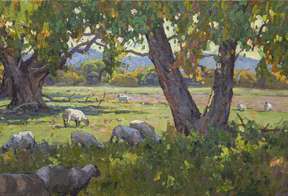 Open House | Wet Paint Sale & exhibition opening | Garden Giveaway | open hours for Aún Aquí exhibition
Saturday, October 7, 2023, 2-5pm
all events »